Flooring
It pulls the whole room together
We are Southern California's Quality Floor Installation Company
Casa Valenzuela Construction understands the importance of attention to detail and quality craftsmanship. As a highly respected construction company with more than 30 years of experience, Casa Valenzuela Construction offers exceptional results for floor installation, room additions, and other remodeling projects. From installing a new carpet to replacing the crown molding, we collaborate with you to get the job done expertly and efficiently.
Whether we are installing vinyl plank flooring, tile flooring, or hardwood flooring, we go to great lengths to ensure our flooring projects are completed in a timely manner so you can enjoy your new floors. Casa Valenzuela Construction will get the job done.
For more information about our home remodeling services and to schedule a free consultation, contact our home improvement experts today.
Upgrade your home with beautiful new floor coverings.
See All Services
If you can dream it, we can build (or upgrade, remodel, replace it)!
I am not sure exactly how to rate Casa. I requested a quote and did get one in a prompt manner. But it was a garbled text message bereft of... read more any details. I was specific at the time of estimate that I'd had a bad experience and required detail. I contacted Casa because it appeared to be a large professional company and I'd get a written estimate. Vs. some random company on Facebook etc.  In the end I just didn't feel comfortable that I knew what I was getting or could make changes and get it right.  That said- the estimator was prompt, professional at the meeting and showed up. Which is a big deal nowadays.  Price, for the fence at least- was good. A larger project was quoted high but without any detail it was hard to gauge where that number came from. I think most people wouldn't have an issue but having had an entire fence show up in the wrong material with a prior contractor their procedures didn't work for me.

Jenn M.


1/02/2023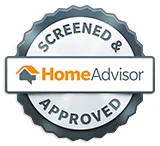 Gallery of Our Flooring Work
Here are some examples of the actual flooring projects we have completed.